Intel® TXT
Making cloud safer, one Trusted Computing Pool at a time
IT managers find themselves challenged to keep pace with cloud industry advances and provide data centers capable of new and more demanding uses that challenge existing security practices. Intel TXT provides the best hardware-assisted security technologies specifically designed to build a secure foundation for cloud operations. DWTI, in partnership with IBM and SoftLayer, offers this pioneering solution as an additional method to secure your infrastructure.
Vetted Server
You know that your hardware and pre-launch software are in a known good state because they have been checked and vetted.
Easy to Order
You can ensure that when your server is deployed it will be enabled with TXT by selecting Intel TXT on the order form.
Stay Online
Eliminated downtime and protect your environment against attacks.
Intel® TXT Partnership Overview
Intel Trusted Execution Technology is fundamentally about trust. You can have peace of mind when deploying and securing cloud resources. Why? Because in the background, a processor-based, tamper-resistant environment compares key server components to previously known, trusted states prior to booting. To learn more, watch this short informative partner video.
Large IT Departments
Trying to control the cost of ownership while maintaining robust security practices takes hard work. Intel TXT uses elbow grease and code to ensure that the system is intact during the boot process. It's just another level of confidence knowing the servers being added are all part of a trusted compute pool.
Big Banks
When it comes to investments and money, financial institutions must meet specific security guidelines to protect customers' bottom lines. It's easy to keep up with financial growth if you can safely deploy additional servers when needed. Intel TXT ensures each resource added has been verified and checked for integrity against server hardware components such as BIOS, firmware, and hypervisor software.
Building a Chain of Trust
The power of Intel TXT provides a strong anchoring point for your chain of trust by offering the strongest possible foundation for successful evaluation of the computing platform and its protection. It features:
A dynamic root of trust for measurement (DRTM)
Data protection in case of improper shutdown
Measurement and verification of launched environments.
During the boot process, the Trusted Platform Module (TPM) holds the computer-generated keys for encryption which essentially is a code that measures, extends, verifies, and executes—over and over to establish a system as trusted.
True Security Means Trusted Compute Pools
Do your security and compliance teams require a Trusted Boot to ensure systems start up in a known good state? Add a layer of defense with Intel TXT. Once select servers are provisioned with Intel TXT, the infrastructure level building blocks will enable a customer to build trusted compute pools.
Intel TXT is available on select servers:
Intel Xeon E3-1230
Intel Xeon E3-1270 (v1, v3)
Intel Xeon E5-2620 (v2, v3)
Intel Xeon E5-2640
Intel Xeon E5-2650 (v1, v2, v3)
Intel Xeon E5-2670
Intel Xeon E5-2690 (v1, v2, v3)
Intel Xeon E5-4620
Intel Xeon E5-4650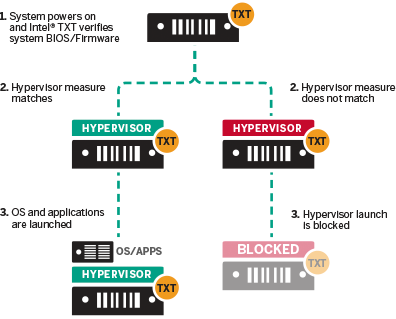 DWTI equals global
With DWTI, you get the same exceptional services wherever you may be. Truly global is when borders don't count, and distance is irrelevant. We make that happen.