Networking
Your work. Your Network
Built on the foundation of DWTI's revolutionary network architecture, we offer an extensive catalog of network-related services to control traffic to and from your infrastructure. Customize network capabilities with uplink upgrades, load balancing within or between data centers, and software-defined networking appliances that protect and optimize performance.
Control
At DWTI, you control and manage servers, rather than the other way around.
Adaptability
Businesses adapt and evolve. Why shouldn´t network resources? Provide, configure and update network resources on demand as your needs change.
Consistency
Deliver your application to your end users quickly and consistently around the world.
---
On-Server Network Upgrades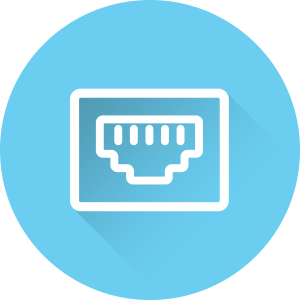 Port Speed Upgrades
Each server comes standard with 100Mbps public and private network ports. For servers with high bandwidth or private network utilization, we offer speeds up to 10Gbps. For redundant network connectivity, we offer dual uplink configurations that feature redundancy on both the public and private network ports (four uplinks total per server) on compatible servers, eliminating single points of failure.
---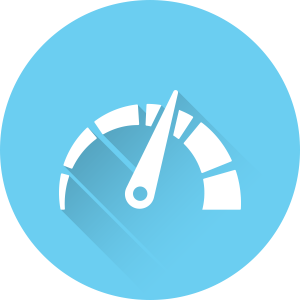 Bandwidth Packages
Deliver higher volumes of data across your network with the bandwidth your business needs with our various bandwidth packages. Multiple public network bandwidth options, including both metered or unmetered, are available for each server.
---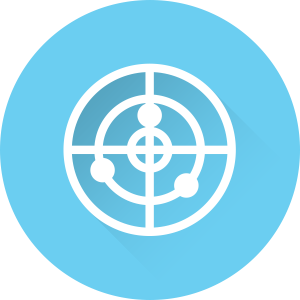 IPv4 and IPv6 Addresses
Each DWTI server comes with one primary IPv4 address. Additional IPv4 addresses are available in quantities of 1, 2, 4, 8, 16, or 32. DWTI also provides one primary IPv6 address with additional IPv6 addresses available in /64 blocks.
Load Balancing
Ensure uniform performance. Server load sharing
Distribute traffic loads so that no single device gets overwhelmed. DWTI load balancing solutions allow configurability and flexibility to manage the traffic and resource usage of server nodes in your environment. Local, global, and high availability options can be activated, changed, and deactivated at any time. And if you have questions about which load balancing solution is the best fit for your application, our experts have answers.
Better Uptime
Mitigate traffic spikes by distributing the load, and protect your servers from unnecessary downtime.
More Responsive
Balance traffic between available resources, so end users do not face traffic jams and slowdowns.
Easy to Use
Manage load balancer configuration and performance directly through DWTI API and Web portal.
---
Local Load Balancing
DWTI Local Load Balancing utilizes industry-standard techniques including round-robin, lowest latency, least connections, shortest response, and IP persistence to balance traffic among two or more servers. It can be activated and configured in real-time, with servers added to or removed from the balancing pool on-demand with little or no downtime.
---
Local & Global Load Balancing
Distribute traffic between your servers in one or multiple DWTI data centers with Citrix NetScaler VPX. These multifunction network appliances can perform DNS-based local and global load balancing, so you have complete control over how your client traffic will be balanced across your servers.
---
High Availability Dedicated Load Balancers
Dedicated Load Balancers are available for environments with higher capacity. These load balancers are also accessible in a high availability option featuring failover protection and automatic fallback.
---
Balance Budgets While Load Balancing
Estimate the cost savings of building on DWTI.
Should you host your complex IT environment on-premises or move it to the cloud? Use our Total Cost of Ownership (TCO) tool to calculate your expected savings when you deploy your infrastructure footprint on the DWTI platform rather than creating an in-house environment.
Network Appliances
All-in-one network control
Save the hassle of provisioning multiple hardware and software solutions to serve as routers, firewalls, and load balancers. Use software-defined networking solutions to create all-in-one network appliances. Deploy on DWTI bare metal servers, and with a few quick clicks, set and tweak complex network settings in an easy-to-use interface, and your infrastructure's traffic management is updated in real time.
Work Smart
Take advantage of advanced load balancing functionality and application-aware health monitoring.
Accelerate
Improve application performance by up to five times with compression, caching, and optimization.
Add Security
Protect applications and data from attack and facilitate information security compliance.
---
Gateway Appliance
An all-in-one device for virtual routers, firewalls, VPNs, and more
Protect your cloud infrastructure and optimize its performance with a gateway appliance: a bare metal server with Vyatta Network OS for x86 servers (subscription edition). Create virtual routers, firewalls, and VPNs that fit your unique application requirements, all built on the rock solid performance of a dedicated system and the security and uptime of the DWTI triple-network architecture.
---
Citrix NetScaler
Web application delivery appliance for increased performance
Ensure that applications are always available and protected, and optimize costs. DWTI provides Citrix NetScaler Standard & Platinum Edition with multiple throughput options. Each device includes, at least, 250GB public outbound bandwidth and unlimited private network bandwidth. Select the edition best suited to your needs, and deploy on the DWTI server that best fulfills your performance needs.
---
On-Premises Implementation or DWTI?
Calculate now how much you can save by building in the cloud
Complex multi-server environments are often provisioned in-house for financial reasons, but building an equivalent environment on DWTI is often less expensive (and easier!) than deploying resources on premises. Use our Total Cost of the Ownership (TCO) calculator to estimate how much you can save by building on DWTI.
Direct Link
Connection that's fully yours
Minimize the distance your data has to travel, avoiding network traffic jams, decreasing latency, and improving your end user experience.
We don't just allow you to simplify, secure, and speed up data transfer between your private infrastructure and your DWTI services. At DWTI you can create a new hybrid solution that leverages the best of your in-house resources and the DWTI platform. Plug into DWTI's private network with a Direct Link via a Network Service Provider, Cloud Exchange Provider, or Colocation Provider and enjoy unparalleled network performance to and from your DWTI infrastructure.

Fast
1Gbps or 10Gbps network connections so that you can move data to and from your on-premises data center.
Secure
You control every node on your network path thus protecting your sensitive, business-critical data.
Private
Save on data transfer to and from your servers in every DWTI data center across our private network.
---
How Direct Link Works

Our network engineers will work with you and your network service provider, cloud exchange provider, or colocation provider to cross-connect your router to ours, and we'll enable a private and secure 1Gbps or 10Gbps connection to your DWTI servers across the private network.
To experience the full freedom of access to your servers on the DWTI platform, get Direct Link. Being connected to our private network, all traffic across your Direct Link and between your servers does not touch the public network or interfere with your public network traffic.
Connectivity Options
Local Routing — Local Routing is the standard Direct Link connectivity. With Local Direct Link, all traffic between your network and the local DWTI data center(s) is free and unmetered across the Direct Link.
Global Routing — Optional Global Routing connectivity is available for all Direct Link entry points. Global Direct Link provides private network access from your network to all DWTI data centers around the world. With Global Routing, all ingress traffic to DWTI is free and unmetered. The first 10TB of egress traffic is included at no additional cost on 1Gbps Global Direct Link circuits, and the first 50TB of egress traffic is included at no additional cost on 10Gbps Global Direct Link circuits.
---
Direct Link Entry Points
Direct Link NSP
Create a single-cloud fiber cross-connection via a Network Service Provider (NSP) in a DWTI network point of presence (PoP). This Direct Link option engages an NSP to run last-mile links directly between a router on your network and a DWTI router. DWTI network engineers facilitate end-to-end connectivity with the NSP, and you have access to your DWTI infrastructure in the local DWTI data center. To expand your Direct Link connectivity to enable private network traffic to all DWTI locations, you can opt to add global routing to your Direct Link.

---
Direct Link Cloud Exchange
Engage a service provider to run last-mile links to a DWTI cloud exchange provider, and DWTI network engineers establish virtual cross-connects for you via the exchange provider. With this DWTI, you have access to your DWTI infrastructure in the local DWTI data center, and you have the option to add global routing to expand your Direct Link connectivity to enable private network traffic to all DWTI locations. This Direct Link option is perfect for multi-cloud connectivity in a single environment.

---
Direct Link Colocation
If your gear is already installed in a Colocation Provider's facility near or adjacent to a DWTI data center, our network engineers will work with you and the colocation provider to facilitate end-to-end connectivity between your hardware and your DWTI infrastructure. Direct Link Colocation provides fast, secure, and uninterrupted access from your owned hardware to your DWTI infrastructure in the local DWTI data center, and if you want to expand your Direct Link's network footprint, you have the option to add global routing and enable private network traffic between all DWTI locations. To take advantage of Direct Link Colocation in a new data center, the DWTI team can arrange the acquisition of Colocation Cabinet space near or adjacent to a Direct Link Colocation facility.

---
Popular Use Cases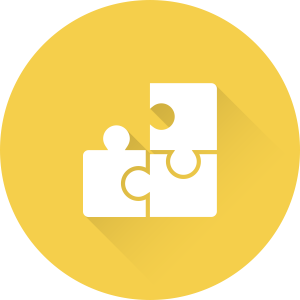 Fully Integrated Hybrid Environment
Blur the lines between on-prem and off-prem resources. With a high speed, direct network link between your data centers and ours, you can move data between servers (literally) at the speed of light.
---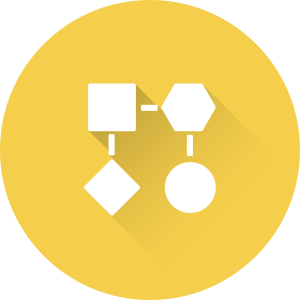 Frequent (and Massive) Backup and Storage
Backup or store huge volumes of data from your corporate data centers on your DWTI infrastructure (or the other way around) without paying us a cent for bandwidth. And because you have a dedicated network connection, your transfer rates will be fast, consistent, and reliable.
---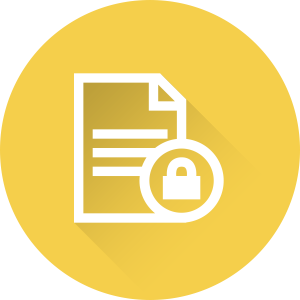 Super-Secure Data
Customers moving sensitive financial, health, or government-regulated data to and from our cloud platform can further ensure its security by completely avoiding exposure to the public Internet at all times.
---
Direct Link Pricing
Direct Link is available in 1Gbps and 10Gbps port speeds on three types of circuits. Direct Links come standard with Local Routing, and Global Routing is available on all circuits for a flat monthly fee.
---
Data Transfer Billing
The connectivity of your Direct Link NSP, Direct Link Cloud Exchange, or Direct Link Colocation circuit can be upgraded with Global Routing to all DWTI data centers around the world for a flat monthly fee. Reference the table below for included ingress and egress data transfer available with Local and Global Routing.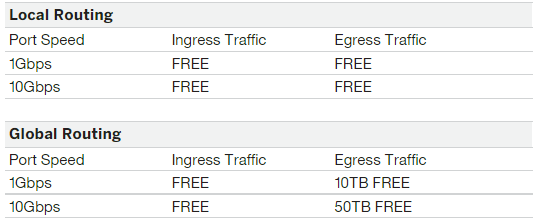 Full support anytime
Assistance, advice, and expertise
Our services are a fusion of the most powerful infrastructure and a top team of experts. This is why we can boldly offer technical support at any time, regardless of time zones or holidays.